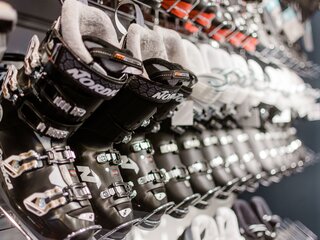 Buy your skis
from the experts in Rauris
Your new favourite set of skis
From the winter sports experts in Rauris
These days, the range of skis on offer is huge. There are numerous brands, different types of skis, different lengths and widths, ... We have the perfect equipment for every skier! Finding the right pair of skis isn't that easy. The trained staff at INTERSPORT Pirchner in Rauris will be pleased to help you buy your new set of favourite skis. We know exactly what to look out for, and will therefore find the ideal skis together with you. And if you also need a matching pair of ski boots, we will be pleased to take the time to custom fit them to your feet. After all, with the right ski equipment you will have more fun on the slopes, and ski even more safely.
By the way: you are also welcome to try out different models from our
ski rental
service before buying your new skis!
Our wintersports shop in Rauris
Buy your skis at INTERSPORT Pirchner