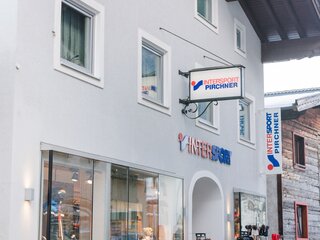 Contact
Main store city center
Marktstraße 64
5661 Rauris
Austria

opening times
today
08:30 - 12:00 o'clock
14:00 - 18:00 o'clock

all opening times
Opening hours winter
winter start: 11.11.2023
11.11.2023 - 09.04.2024
monday - saturday
08:30 - 12:00, 14:00 - 18:00 o'clock sunday
09:00 - 12:00, 15:00 - 18:00 o'clock
Opening hours summer
summer start: 19.04.2024
19.04.2024 - 29.10.2024
monday - friday
09:00 - 12:00, 15:00 - 18:00 o'clock wednesday - saturday
09:00 - 12:00 o'clock
Sports shop
Best brands and best advice
We are there for you all year round in our sports shop at Markstraße 64. You'll find the right equipment for your favourite sports, whether indoor or outdoor.
Would you like to rent sports equipment? Then visit us in our rental shops at the Hochalmbahn valley station or in Rauris West.
Equipment for your winter sports
Many winter sports adventures await you in Rauris. Skiing, cross-country skiing, ski touring, snowshoe hiking and much more. Get advice in our sports shop and get new alpine skis, snowboards, touring equipment or cross-country equipment. With our large selection of clothing for women, men and kids in various colours and designs, we can optimally cover your needs.
Equipment for your summer sports
You are full of motivation and want to climb a mountain peak, but you don't have the right hiking equipment? Then you are in good hands in our sports shop. We have the right hiking boots, clothing and accessories for your next tour. Whether it's sunny, windy or rainy - with the right functional clothing, nothing will stop you from achieving your goals.
How about a refreshment in the cool water after a sporty day? That's why we also have swimwear for young and old.