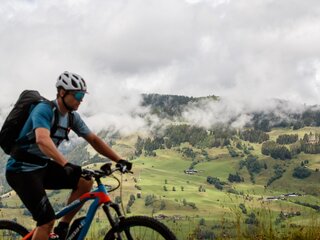 Bike rental Rauris
Rent top bicycles & E-Bikes at INTERSPORT Pirchner mieten
Your bike rental service in Rauris
Great wheels await you
Whether you're enjoying a holiday in Rauris or if you're a local resident and would like to try out something new - we look forward to welcoming you at our bike rental service! We are passionate cyclists ourselves, and will therefore be pleased to advise you on the right choice of rental bike. Not to mention our insider tour tips for free ;)
At our bike rental service, you will find a wide range of mountain bikes, e-mountain bikes, e-fullies and children's e-bikes. You will find brands such as Cube, Centurion or Genesis. It goes without saying that all of our rental bikes receive the very best servicing and maintenance. If you have a breakdown during your ride, however, our pick-up service is always available to help you. Have fun biking!
E-bike rental Rauris
at INTERSPORT Pirchner
E-bikes are currently experiencing an enormous boom. No surprise - as these electrically-powered bikes make cycling tours possible that were once reserved for only a few bikers. The motor supports you and also puts you in flow uphill. It is an indescribable feeling! And in the mountainous scenery in and around Rauris, it is twice as much fun. Be open, experience new things and rent an e-bike at INTERSPORT Pirchner in Rauris. After receiving some brief instructions from our professionals, you will be ready to go. And the smile will stay on your face all day!
Our bike rental shop in Rauris
Rent high quality bikes at INTERSPORT Pirchner